ST Suspension ST X Height Adjustable Coilover Kit w/o DCC
ST Suspension ST X Height Adjustable Coilover Kit w/o DCC
Be the first to review this product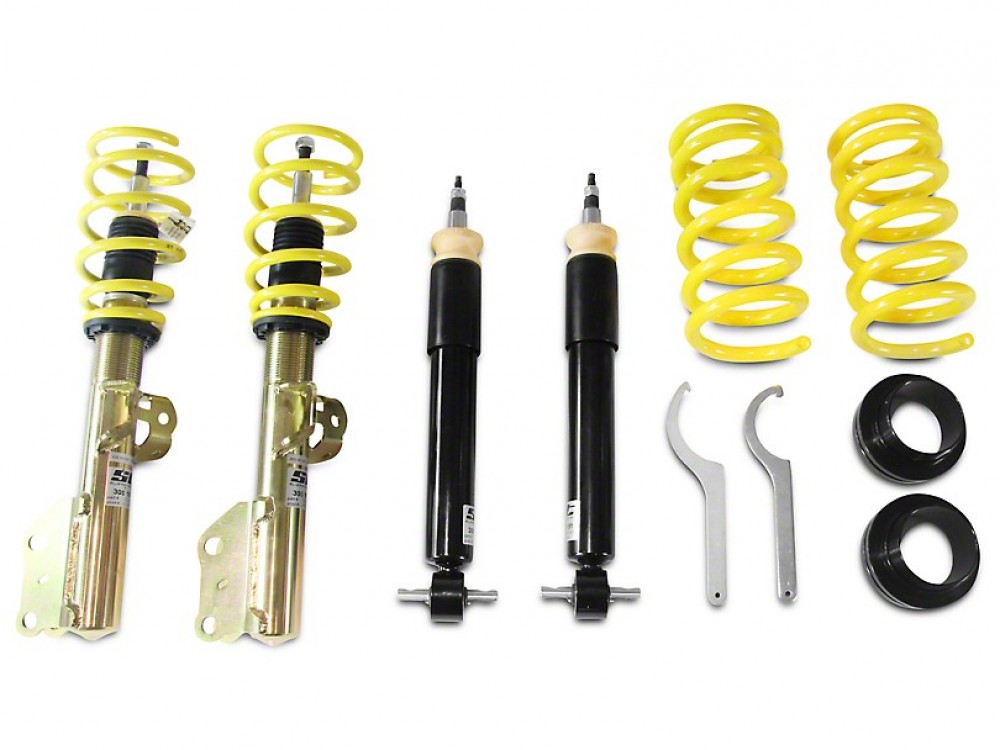 The product images shown are for illustration purposes only and may not be an exact representation of the product.
Shop By
Free shipping to the lower 48
Suspension available for quick delivery
Part Number
ST-1328000N
Details
Designed in conjunction with KW Germany, ST X coilovers deliver a sporty handling by reducing the car's bodyroll during compression as well as improving agility when driving fast. The high-quality production of each ST X coilover includes a low-friction and pressure resistant housing alongside a chrome-plated piston rod for maximum longevity. A mono block guide and ST seal package ensures the twin-tube dampers remain free of dirt particles in all weather conditions.
Lowering Amount
Golf:
Front: 0.6"-1.8" / 15-45mm
Rear: 0.8"-2.0" / 20-50mm
Golf:
Front: 0.6"-1.8" / 15-45mm
Rear: 0.8"-2.0" / 20-50mm
Fitment
2020 Volkswagen GTI Autobahn FWD
2020 Volkswagen GTI S FWD
2020 Volkswagen GTI SE FWD
2019 Volkswagen GTI Autobahn FWD
2019 Volkswagen GTI Rabbit Edition FWD
2019 Volkswagen GTI S FWD Wagon
2019 Volkswagen GTI SE FWD
2018 Volkswagen GTI Autobahn FWD Wagon
2018 Volkswagen GTI S FWD Wagon
2018 Volkswagen GTI SE FWD Wagon
2017 Volkswagen GTI Autobahn FWD Wagon
2017 Volkswagen GTI S FWD
2017 Volkswagen GTI SE FWD Wagon
2017 Volkswagen GTI Sport FWD Wagon
2016 Volkswagen GTI Autobahn FWD
2016 Volkswagen GTI S FWD
2016 Volkswagen GTI SE FWD
2015 Volkswagen GTI Autobahn FWD
2015 Volkswagen GTI S FWD
2015 Volkswagen GTI SE FWD
**This part fits a ton of vehicles, so let's check to see if it fits yours. Don't see it on the list above? No worries, type your vehicle in the search bar above to see the full list of compatible vehicles.**
---
About Us
We are dedicated to helping you find the perfect fitment for your ride while also bringing you the highest quality, affordable aftermarket parts in the world! We are truck and car enthusiasts who build their dream rides with these very products.
Shipping
Shipping times vary depending on item and immediate availability. Unless a specific lead time is listed on this page, expect to receive an email with an ETA within 1-3 days of placing your order. Many suspension kits will ship out within 3-5 business days while some select items may take up to 7-10 business days. Availability on backordered or built-to-order products can vary and we will keep you informed via email with any ETA changes. You will receive the tracking information via email as soon as it is available so you can easily track your package(s) from us, to your door. Keep in mind, some suspension components may ship separately and could arrive at different times. All shipping prices are based on the lower 48 states unless specified otherwise and do not include any duties or customs fees you may be subject to for international orders.
What to Expect Upon Delivery
Always inspect your items immediately upon receipt and notify us if there are any concerns, damages, or missing items. Please verify that all boxes and parts are present and correct using the packing slip or instructions before starting installation or bringing your vehicle to a mechanic. We are unable to assist with any costs accrued from delayed installs due to missing parts. If parts are missing or show signs of shipping damage, please contact us immediately so we can assist you with a replacement; claims of missing or damaged parts made more than 14 days after delivery cannot be honored.
Returns and Cancellations
Any returns or cancellations after placing an order can result in up to a 30% restocking fee. Return requests due to buyers remorse are evaluated on a case-by-case basis and different products may fall under different policies. Please ask any questions you may have about a specific product return policy by contacting our experts. Refunds will be issued after the returned product has been inspected, which can take 1-4 weeks. Products that show signs of installation when returned will not be accepted and will be returned to sender or scrapped.
Warranty
All manufacturer warranties apply and we will support you as the customer in ensuring you get a quality product. In some warranty situations, manufacturers may need to contact you directly. We are unable to assist with any costs not explicitly covered by the manufacturer's warranty policy, including, but not limited to, shipping or labor costs. For any questions or concerns please contact us. Please note that warranty claims are available to the original purchaser only.
WARNING: This product can expose you to Nickel, which is known to the State of California to cause cancer, birth defects, or other reproductive harm. For more information, go to p65warnings.ca.gov.