Easiest First Mods for Your Car
December 3, 2020
We all want to throw a big turbo on our car and make 1000 horsepower, but let's face it, that's expensive and incredibly difficult. Having a modified car can be take a ton of time to build but here are a few easy first car mods that you can complete in one day or even 10 minutes that won't make you go broke right away!
Table of Contents
Easy car mods are everywhere, but possibly one of the easiest mods of all time is a new set of wheels. Not only can new wheels completely change the look of your car but can reduce weight and increase your car's overall performance. Plus, they're super easy to install and can probably be swapped onto your car within 10 minutes.
Whether you're looking to go with a show build, a track day monster, or a daily driver, you have a ton of options to choose from. Below are some of our most popular brands!
Most Popular Wheel Brands:
- JNC
- Enkei
- Konig
- XXR
- Aodhan
Out of nearly any mod you may ever do to your car, tires are going to most likely make the biggest difference to improve the performance of your ride. Just make sure you choose the right type of tire for the job.
We have a complete guide on things you should know before buying wheels and tires that will break down the most popular tire types so you can find what's right for your car! Whether you want the most grip possible or just better fuel economy, there's an option for you.
READ THIS BEFORE BUYING WHEELS AND TIRES!
Most Popular Tire Brands:
- Nitto
- Federal
- Toyo Tires
- Michelin
Check Out Michelin Tires Here!
- Hankook
If you're not quite ready to make the jump to a new set of wheels, definitely look into getting a set of wheel spacers. These spacers sit behind the mounting face of your wheel and push it outward. Spacers are usually used to create a flush fitment and can look really good even on stock wheels.
Spacers are also relatively inexpensive and easy to install. Just make sure you get a high-quality set. It's definitely worth paying a little more for the increase in safety and corrosion resistance.
Get High-Quality Wheel Spacers Here!
It's no secret that lug nuts are a small yet incredibly important part of your car. However, important doesn't mean they have to be boring. Lug nuts can add that pop of color that some cars need to help pull off the theme of their build. We have a ton of different options to choose from.
Everything from colored tuner lugs to spiked multi-piece lugs, there will definitely be a style you like and they're a cost-effective option that adds a little flare to your build.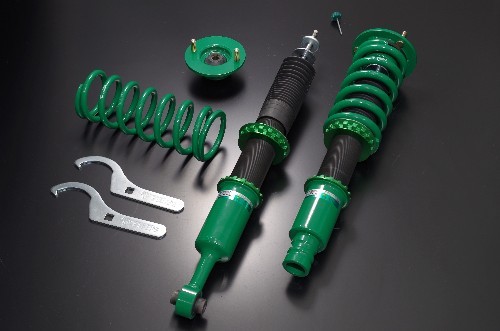 Last but certainly not least we have a set of coilovers. These replace your factory springs and struts and allow you to adjust your ride height, dampening, and more! For the most part, coilovers aren't super difficult to install but it does depend on the vehicle you're putting them on. This is the best first step to modifying car suspension.
If you're looking for a budget-friendly coilover kit, check out brands like Tein. Their Flex Z coilover kit gives great performance and a great look without having to worry about adjusting everything.
Find Coilovers For Your Car Here!
If you want the best of the best, for things like backroads and track use, brands like Silvers Suspension and Fortune Auto offer advanced coilover kits that have a wide range of adjustability.